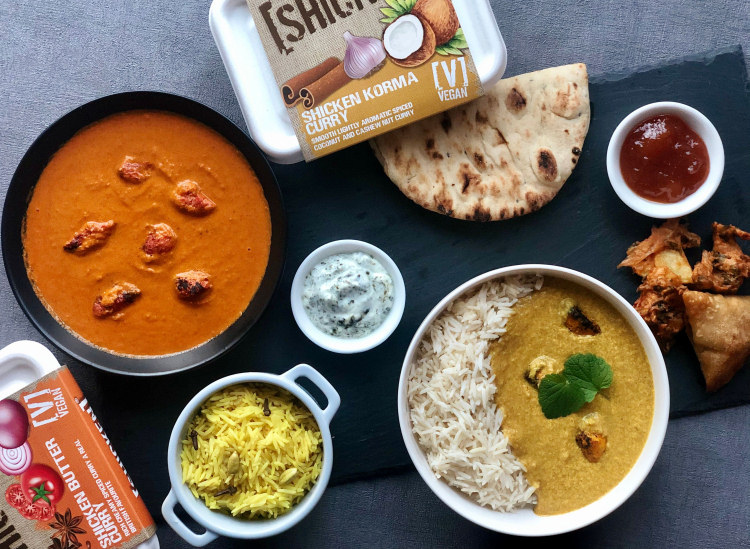 The very first curry house opened in London UK in 1810, over two hundred years ago. and now two centuries later … Plant Alternative have launched the first [SHICKEN], a vegan curry range; what a time to be alive! 😁
As a self-confessed curry queen, I was SO excited to try [SHICKEN], the plant-based Chicken curry made with succulent plant-based chicken pieces. The whole range did not disappoint, I tried them all: Korma, Jalfrezi, Tikka and Balti and I'm totally hooked. 
The chefs at Plant Alternative have simply coated their soy based [SHICKEN] vegan chicken pieces with a tandoori marinade, cooked them on a live flame to ensure they are Bar-B-Q charred, and smothered them with some of the UK's most popular Indian curry sauces ranging from vegan chicken Tikka Masala to vegan chicken Korma. Without doubt the closest vegan match to some of the UK's most popular chicken ready meals (non-vegans will LOVE this dish too, I'd be surprised if you could tell any difference) 
Creating the perfect vegan ready meal range, offering something for everyone with varying heat and spice levels.
For all you curry lovers out there turning vegan or enjoying being vegan has just been made that much easier by [SHICKEN] and Plant Alternative. 
Don't just take my word for it about how good [SHICKEN] is – even celebrity chef Gordon Ramsay (or at least his lookalike) has given it the thumbs up too!
Seriously …. You REALLY need to try this!
Note- [SHICKEN] comes in 100% plastic free packaging, compostable trays and recyclable sleeves protecting our environment one curry at a time. 
https://www.plantalternative.com/
« Gunas Koi Bag
VEGAN Happy Clothing »