Day 1
Because our flight was delayed yesterday and we arrived at 3am we only managed to steal just 2 hours sleep!
It was time to get the cross country train to Craiova from Bucharest a journey that takes 3.5 hours but first we had to take a shuttle bus to the airport to then take a taxi to the train station before we could board the train.
We are all rather feeling the worse for wear as we board the train packed in like sardines for our 3.5 hour train journey from Bucharest to Craiova
Arrived Craiova around 12 after our 3.5 hour train journey to be met by our Romanian Angel Madalina.
We were quickly rushed to the vet where the vets' team had been waiting to start the spay campaign.
It was all systems go while one dog was being prepared for their operation while another dog came around after its anaestesia with their tails wagging.
I absolutely love spaying and neutering! It's such an amazing feeling to know we are preventing endless innocent lives from future suffering.
The operation takes the amazing vet team just 10-15 minutes to complete and costs just 20 euros. To think this operation could potentially stop one bitch and it's offspring within 7 years from having up to 67,000 puppies is incredible! Thank you to everyone who sponsored the cycled ride to raise the cash for this spay campaign, this is where your cash is going.
We spayed and neutered many dogs today and some cats too. Some of the dogs we operated on where street dogs, some from our shelter and local NGOs and some belong to local people who simply could not afford to pay for this operation. They were so grateful to us for helping them and their pets.
The head Vet Dr Safta Doru was explaining that sterilisation doesn't only end the stray dog problem it has many health benefits too.
Sterilisation controls epilepsy in females, it helps dogs not have cancer, mammary tumors happen when dogs not spayed so reduces cancer to zero, the more seasons the more it could get cancer so basically your pet will have longer happy life if spayed or neutered.
While at the vet's an elderly lady came in with a little cat who appeared to have a broken leg, the lady was crying and asking us to help.
The lady had just found this little cat and she wanted to help but she simply didn't have the funds. We immediately posted an appeal to raise funds for the cat and the cat was seen straight away by the vet.
Pola and I had an interview for Romanian TV about our spay campaign then it was time to visit our shelter build to see how the new vet facility is coming along. Exciting!
Such a beautiful sunny day in Craiova today, and as we pulled up to our shelter the sun shone on the shelter and the dogs, what a beautiful scene! The new vet facility was huge! And lots of happy dogs play in the 2 dog houses.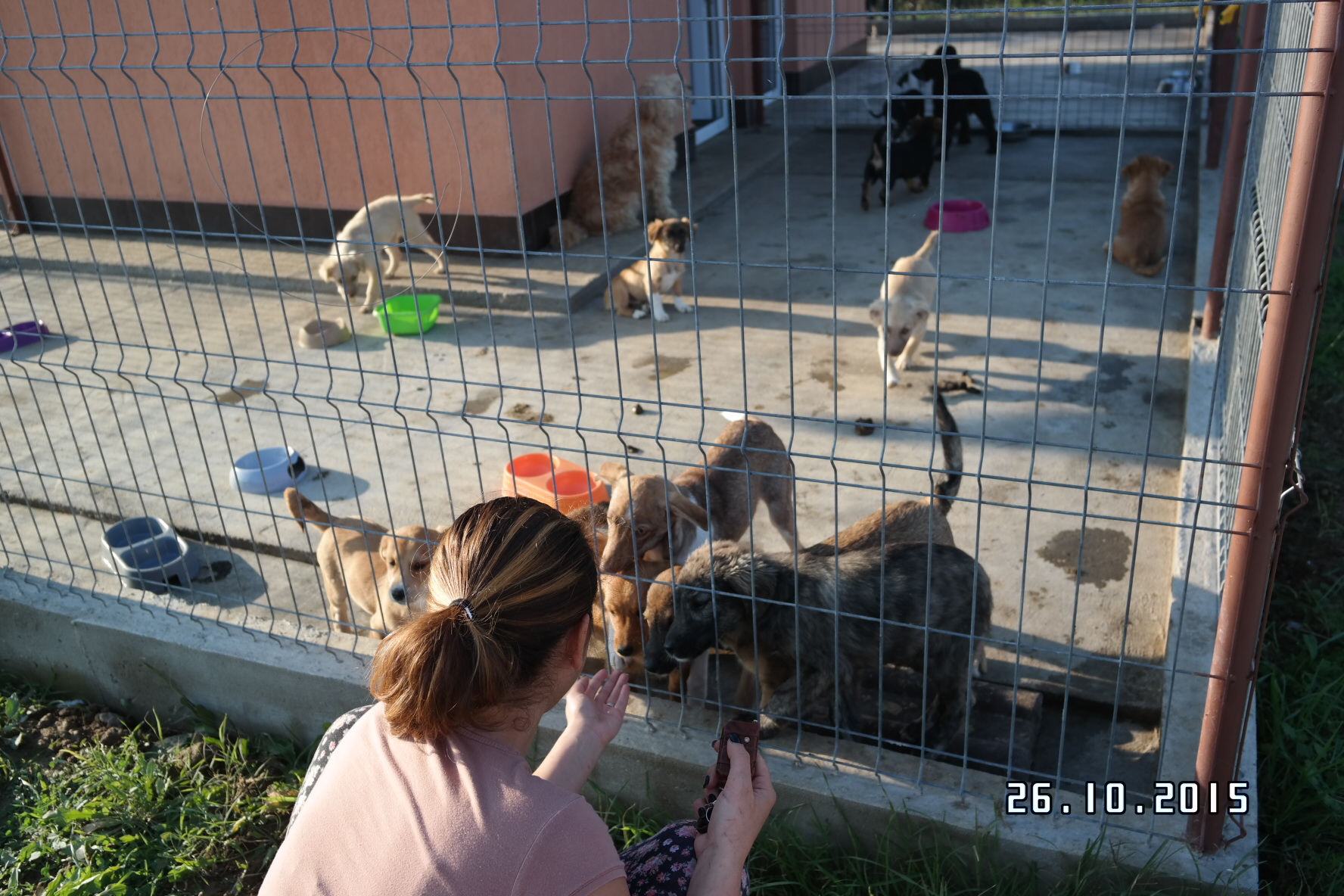 Aurelia showed us around the new vet facility and it was incredible!!
Team K-9 Angels can't thank our donors enough! This vet facility will be able to prepare dogs for travel and tend to emergency cases there and then instead of Aurelia having to drive for miles.
The second dog house was up too with lots of happy puppies running around it. It was like heaven as Pola and I enter the puppy kindergarten. Amazing Aurelia had already found homes for all these lucky pups too!
There are many dogs at our shelter that do need homes, but 2 that stole my heart – first Dennis a small/med size fluffy boy that I had met and named on the last trip.
Unfortunately Dennis had to have his front leg amputated, his a beautiful friendly boy and his around 8 years old.
Then there is this beauty who doesn't have a name as yet. Again I saw him last time but this time he had lost his sight completely, it was horrible to find this out.
He looked so lonely and confused. He really needs an experienced home who will give him lots of love.
Day 2 spay
This morning we spay even more dogs. We raised enough cash on the cycle ride to spay 300/400 dogs.
Spaying has to be my personal favourite thing to do so going from a high to going to a very low….
The dreaded visit to Breasta public shelter. We have visited this hell hole many times but this time we do not have the funds to pull any dogs out we visit only to make an appeal and to see how we can improve conditions in the not too distant future.
It was hell! Around 400 dogs locked away behind bars in urine filled pens. The stench hits your nostrils as you walk near to the pens. As you approach the pens the dogs beg to be loved. It's so very sad. So many beautiful innocent souls begging you to love them and begging you to take them from this concentration camp.
Even though we don't have charity funds we each rescue a dog out as these where the most extreme cases and we simply could not leave them behind.
We manage to pull
Fergus: red dog
Rebecca: red dog
Pola: black female
Sue: bleeding dog
Victoria: Tumor dog
Sandy the puppy
Another white dog bad food been attacked by bigger dog
Fergus also pulled out a little dog that he decided to adopt and name Batty, Fergus really is the dog father!
Visiting this 'shelter' and mixing with the dog catchers and seeing all those innocent forgotten dogs is soul destroying. Without outside help all these dogs will die unloved unwanted
As we leave the shelter there were even more dogs being fed at the side of the road.
It's never ending, heartbreaking and soul destroying seeing so many abused and abandon dogs.
We are contemplating what local or EU statute recourse is available to us to see if we can help the conditions at the public shelters improve as a result.
Aurelia is determine to improve
No medical, bad spays,
Solicitor saw on new a vet convicted 7 years for animal abuse killing 200 dogs
Possible we help then vet may go to prison
Sol says if we start this case we need proofs
Peoples are changing how they look
A quick visit back to the vet to check up on the 2 puppies that we just rescued from the public shelter.
Both puppies where given all the tests Fergus dog whom he named batty tested negative for distemper and the sandy puppy test positive for distemper unfortunately so we will have to wait to see if this little nameless dog survives.
Left the vet for the 5pm train back to Bucharest. 4 hour train journey.
Said goodbye to Aurelia and Mada – we will see them next year in the Spring time.
Day 3
Arrived Odai at 10.15am to be met by Odai management, Marius, Elena and Alison from Paws2rescue
Because actor Ricky Gervais had retweeted our appeal for Odai shelter he had helped the K-9 Angels raise over £30,000!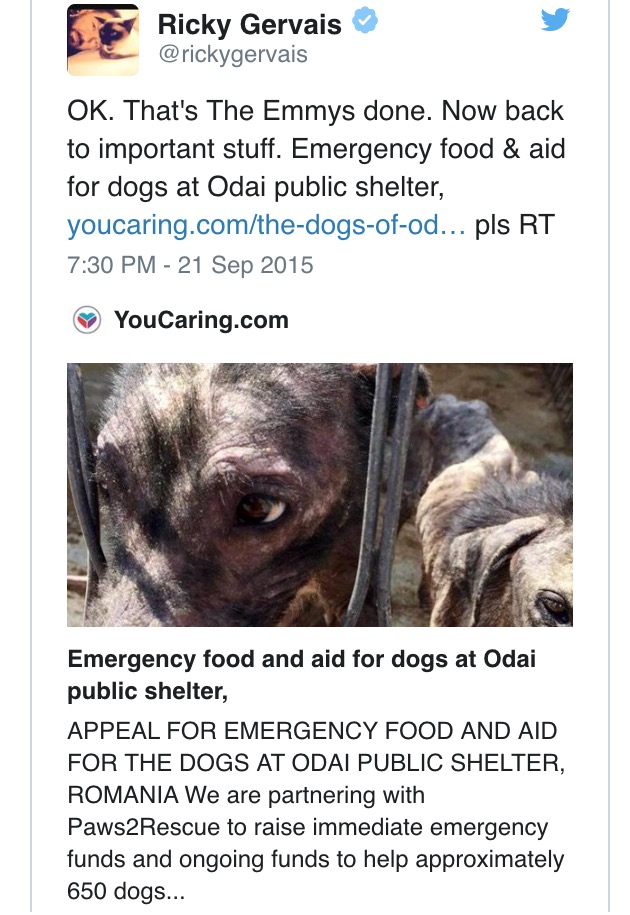 Our trustee Sue had worked very hard to purchase a year's supply of food that will be delivered every 2 weeks to Odai , new beds as the dogs were sleeping on cold stone floors, bowls for food, sanitizer and a helper to work there for a year to help look after the 680 dogs at the shelter.
The shelter was looking way better than when I visited just 3 weeks before. Marius had sent in his workers who had been cleaning for 3 days. Placing beds and bowls and making sure all dogs had food. It's a huge task and not enough staff at the shelter to carry this out.
I noticed a small dog look very unwell nose streaming very very skinny and huddled up so I ask for this dog to be removed it was then removed and taken to the vet, this poor little dog had pneumonia
Then I spotted a mum and pup the puppy tiny in a wet pen no bedding so I removed it and wrapped it in my hoodie we then removed the mum too which was taken to the vet to be reunited with its pup in a warm bed.
There are simply too many urgent cases at the Odai shelter and not enough funds to help these dogs.
Please keep donating and spreading awareness.
£30,000 may seem like a lot of cash but it isn't when you have already spent money for a year's supply of food, beds for all the dogs, bowls for all the dogs, sanitizer and a worker to work there for a year plus funds for a some of the most urgent medical cases, £30,000 soon goes.
Gets the link to donate and share
We then went to visit Marius and Elena's shelter in the forest.
Although shelter life is never going to compare to living in a loving forever home Marius and his team do a very good job.
Around 400 happy clean well fed loved dogs live there. It was a very good example of how a shelter should look and how it should be run.
Lots of food clean water and clean pens. Marius clearly loves the dogs and they love him.
It was nice to end the trip on a high but the last few days have been a roller coaster of emotions
Back at the hotel over dinner we plan our next move to raise funds, raise awareness and help as many dogs as possible.
Day 4
Before heading to the airport we visited Raluca's shelter, Red Panda. Raluca and her team work tirelessly to rescue dogs from the streets or in desperate need and then find loving homes for them. All the dogs look happy, calm and well cared for. All are beautiful and all looking for a home. Red Panda is a lovely shelter run by volunteers who do their utmost to raise funds for the dogs in their care but desperately need help with vet bills. All dogs are individually assessed and receive love and exercise daily, and all the dogs we met there looked happy and would make wonderful pets. Here is their Facebook page if you are interested in adopting one of their beautiful dogs or wish to help them with their vet bills: https://www.facebook.com/RedPanda.Romania/?fref=ts We said our goodbyes to our friend, Raluca, and made our way back to the airport for our flight back to the UK.
The whole team feel emotionally drained but we won't ever stop trying to help these forgotten dogs.
Thank you to all our supporters as we simply could not do this without you!!
Love Victoria X
« K-9 Angels awards Pup Aid 2015 best in show!
Diary of the K-9 Angels – 24 hours in Romania »