My Vegan birthday lunch by Vegan Angel and Official Vegfest blogger/Vlogger Victoria Eisermann
Date – 24 th January 2015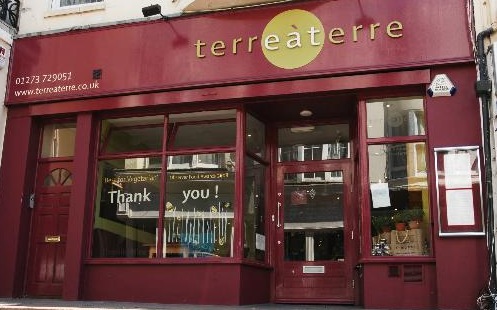 'terre à terre' is Brighton's iconic acclaimed restaurant where vegetarianism is more about indulgence than abstinence.
I just love this place that's why I chose to celebrate my 44th birthday here with my Veggie partner.
We have eaten at Terre a Terre many times before and we have never been disappointment.
With a relaxed atmosphere and decor, great informative and knowledgeable friendly staff and extensive menu of mouth-watering Veggie and Vegan delights what's not to love!
The food at Terre a Terre will stimulate your mind as well as your taste buds leaving you wanting more.
My main course was Aubergine Dengaku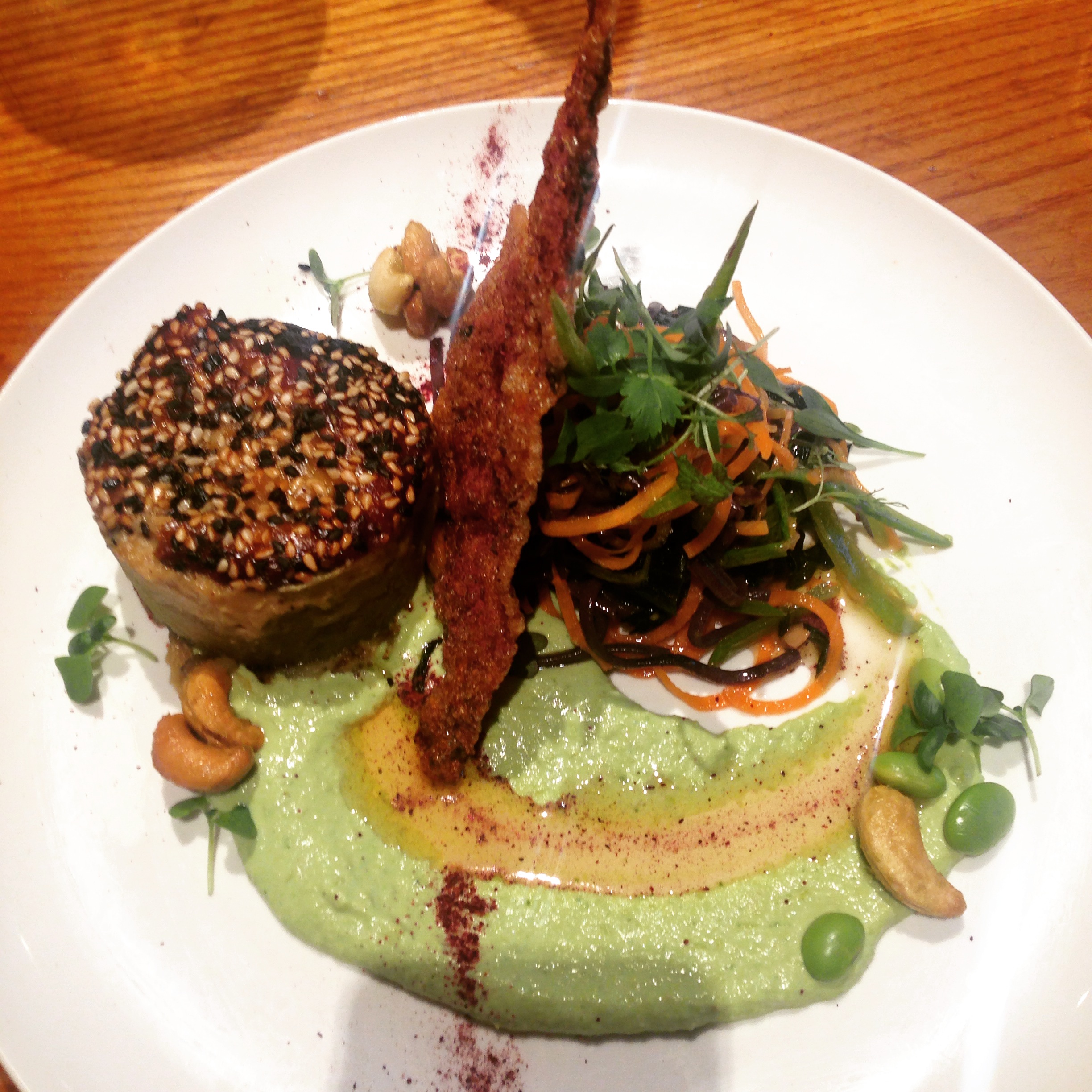 Slow soft sake baked aubergine sizzled with tahini, sesame and white miso finish served with edamame, wasabi and yuzu pesto, sesame ginger dressed Arame Wakame vegetable thread salad and an amchur, nori salt dusted puffed rice seaweed cracker.
Totally vegan and delicious! A tantalising array of different tastes dancing on your taste buds. I couldn't get enough of this.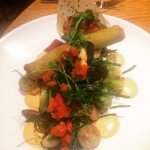 My Partners main was 'Easy-Peasy' Calabrese
Yarg, smoked tomato, pea and mustard leaf croquette with buttered samphire and parsley and lovage purée served with black onion seed brick cup caponata, smoked red pepper and red pepper aioli with confit girolle mushrooms and garlic roasted Calabrese stalk finished with griddled pearl onions and buttered broccoli heads.
Not only a visual feast but a heavenly feast on the taste buds too!
My man's desert Hot Banana (Vegan)
(Comes Vegan and Veggie option)
Hot banana almond spice cake and toasted cinnamon, nutmeg sugar spice- crumbs served with warm white miso sweet sherry caramel and sticky anise olive oil pineapple in a clove laced syrup with rum parfait ice cream, coffee bean hazelnut praline, and Espresso syrup and banana pistachio cream. Try with Aged Belize Rum, 5 years in Bourbon Barrel!
He ate it so fast I didnt get time for a picture !
A heavenly desert!
I didn't order a desert as I was nicely full from my main dish but as it's my birthday I was brought a little vegan chocolate delight on the house which was just a heavenly way to finish off my perfect Vegan feast.
Whether it be for lunch or dinner I would fully recommended Terre a Terre for all the above reasons. Like myself and my partner I'm sure you will have to keep coming back for more too!
http://www.terreaterre.co.uk/about/about-us.html
Until the next Vegan feast review
Victoria x
« Vegan afternoon Tea at LA Suite West in London
The K-9 Angels attend a Parliamentary briefing – to end the dog meat trade in Asia. »