Vegan afternoon Tea at

LA Suite West in London


Review by Vegan Angel and official Vegfest blogger Victoria Eisermann

Nothing is more British than Afternoon Tea in London.
So when Vegfest founder Tim invited me for Vegan cream tea to announce the London Vegfest dates how could I say no?!
Well I did have to think for about 2 seconds as I was supposed to be on a 'Vetox' (word I made up for cutting out naughty Vegan food) then I thought they pull yourself together!
LA Suite West offer a contemporary Vegan alternative to this Great British tradition and it did not disappoint.
Tim's other guests for afternoon tea were Alan his Vegfest team member and Veggievision founder and one of my closest friends Karin Ridgers.
Firstly we were served some amazing finger sandwiches all of which tasted super yummy!
Scrambled Tofu | Mustard cress
Grilled Portobello| Rocket pesto | Balsamic (N)
Lemon & Thyme Tahini | Cucumber (N)
Grilled Aubergine | Red pepper
Courgette | semi dried Tomatoes| Parmesan Mayonnaise
Then came Warm Home Made Scones | fresh Strawberries | whipped Coconut "cream"
Again delicious Scones and surprisingly creamy 'cream.
And last but not least we were served some super cute and super yummy cakes & desserts. Each little cake had a tantalising taste.
We had such a fun 4 hours of amazingly yummy food and laughter then drum roll Tim just got the dates for
Vegfest London 2015!!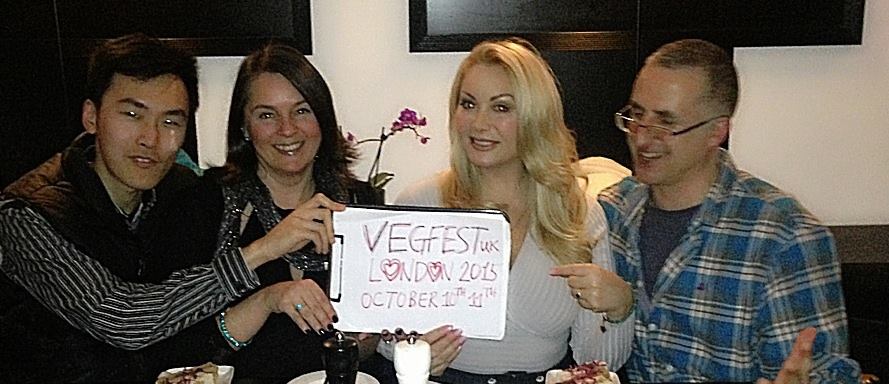 The dates for Vegfest London are 10th & 11th October and Vegan Angels talks TBA.
The Vegan Angels will hold Vegan ethics and dog rescue talks in Brighton on Sunday 29th March in the Lifestyle / Campaigns room at 4pm and Bristol on Saturday 23rd May in the Lifestyle / Campaigns room at 2pm.
Apart from seeing old friends and meeting a new friend my verdict for afternoon tea at LA Suite west is great service, very yummy food and a must try for all Vegan afternoon tea lovers and non-Vegans alike. You will love it!
In the words of Arnold Schwarzenegger ', I'll be back'. 🙂
http://www.lasuitewest.com/raw-vegan-restaurant-london
« Are you wearing Dog Leather?
'terre à terre' Veggie/Vegan restaurant review – Brighton »