K-9 Angels front Harvey Nichols fur campaign in London
'Have a heart and drop fur'

Saturday the 14th of February – Valentine's Day
The K-9 Angels joined forces with Heartless Harvey Nichols campaign
to protest outside of flagship Harvey Nichols store in Knightsbridge (London).
We all gathered in freezing cold holding hearts and roses in a bid to urge the department store to have a heart for animals and to stop selling real fur. The shamed fur wearers were actually running away or into the store. Clearly knowing that wearing fur is embarrassing, barbaric and simply not needed.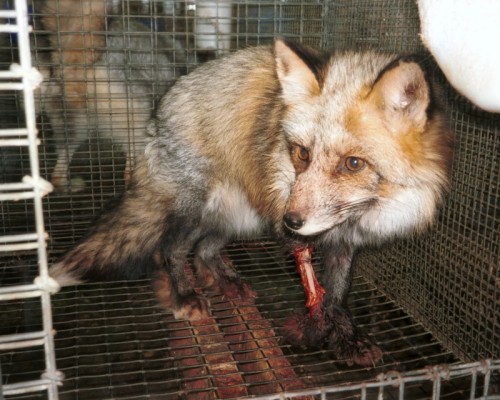 Until 2013 Harvey Nichols had a long-standing ethical policy on fur, however the department store has since resumed the sale of fur items.
Harvey Nichols claims that their fur is sourced from "ethical" suppliers under the "Origin Assured Scheme" – on the contrary a PETA- People for the Ethical Treatment of Animals exposé has confirmed that animals on so called "Origin Assured" fur farms suffer neglect, injuries and disease. The documented evidence from fur farms that supply Harvey Nichols has shown mink with severe head injuries and exposed brains, foxes cannibalising their cage-mates and other animals with untreated open-wounds.
These animals then face the most tragic and gruesome of deaths; mink are suffocated, foxes are electrocuted in order to induce heart-attacks, rabbits are knocked unconscious through being hit with a blunt object or thrown against a wall and then skinned. These are industry standards for killing these animals – Harvey Nichols may claim their fur is "ethical" but the facts tell a different story.
If you oppose this barbaric treatment of animals, please join us in urging Harvey Nichols to have a heart for animals and drop real fur from their stores nationwide!
Please join the k-9 Angels and support this campaign and speak for those innocent animals that do not have a voice in 4 simple steps
1- Sign petition below (only takes a minute),
2- Email or write to the store (addresses below)
3- Join the campaigns Facebook page
4- Finally please share all of the above. 🙂
Please sign this very important petition.
https://www.change.org/p/harvey-nichols-stop-selling-fur-2
The K-9 Angels will be handing this petition in along with Heartless Harvey Nichols campaign group to the store soon so please sign and share! Your signatures count to saving lives!
Please also send a polite letter or email to Harvey Nichols asking them to follow in the footsteps of Selfridge's department and drop cruelty from their shelves.
Stacey Cartwright
CEO, Harvey Nichols Head Office 361 – 365 Chiswick High Road London
W4 4HS
Please like and share the page below to keep up to date to how this campaign is going. All information can be found on this page.
https://m.facebook.com/HeartlessHarveyNichols?ref=bookmark
Together we will be their voice.
Thank you so much!
« Vegan lunch review with 'Honorary' angel Marisa Heath
'Ruffin it' to riches »